Predicted Selective Increase of Cortical Magnification Due to Cortical Folding
The Journal of Mathematical Neuroscience
2012
2:14
Received: 22 March 2012
Accepted: 26 November 2012
Published: 17 December 2012
Abstract
The cortical magnification matrix M is introduced founded on a notion similar to that of the scalar cortical magnification factor M. Unlike M, this matrix is suitable to describe anisotropy in cortical magnification, which is of particular interest in the highly gyrified human cerebral cortex. The advantage of our tensor method over other surface-based 3D methods to explore cortical morphometry is that M expresses cortical quantities in the corresponding sensory space. It allows us to investigate the spatial relation between sensory function and anatomical structure. To this end, we consider the calcarine sulcus (CS) as an anatomical landmark for the primary visual cortex (V1). We found that a stereotypically formed 3D model of V1 compared to a flat model explains an excess of cortical tissue for the representation of visual information coming from the horizon of the visual field. This suggests that the intrinsic geometry of this sulcus is adapted to encephalize a particular function along the horizon. Since visual functions are assumed to be M-scaled, cortical folding can serve as an anatomical basis for increased functionality on the horizon similar to a retinal specialization known as visual streak, which is found in animals with lower encephalization. Thus, the gain of surface area by cortical folding links anatomical structure to cortical function in a previously unrecognized way, which may guide sulci development.
Keywords
ScotomaNeural RepresentationHorizontal MeridianVisual HemifieldLift Function
1 Introduction
The patterns of the highly folded surface of the cerebral cortex are prominent features of the human brain (Fig.
1
a). Primarily, folding permits a larger cerebral cortex surface area to fit inside the skull. However, folding ensures that the additional surface area is not homogeneously distributed, if the surface becomes intrinsically curved. The surface gain is spatially concentrated in certain cortical regions. The cortex represents sensory information in distinguishable fields and therefore the question of the relationship between anatomical structure and sensory function is naturally given. We utilize the methods of continuum mechanics and complex analysis to explore this relationship in the cortex.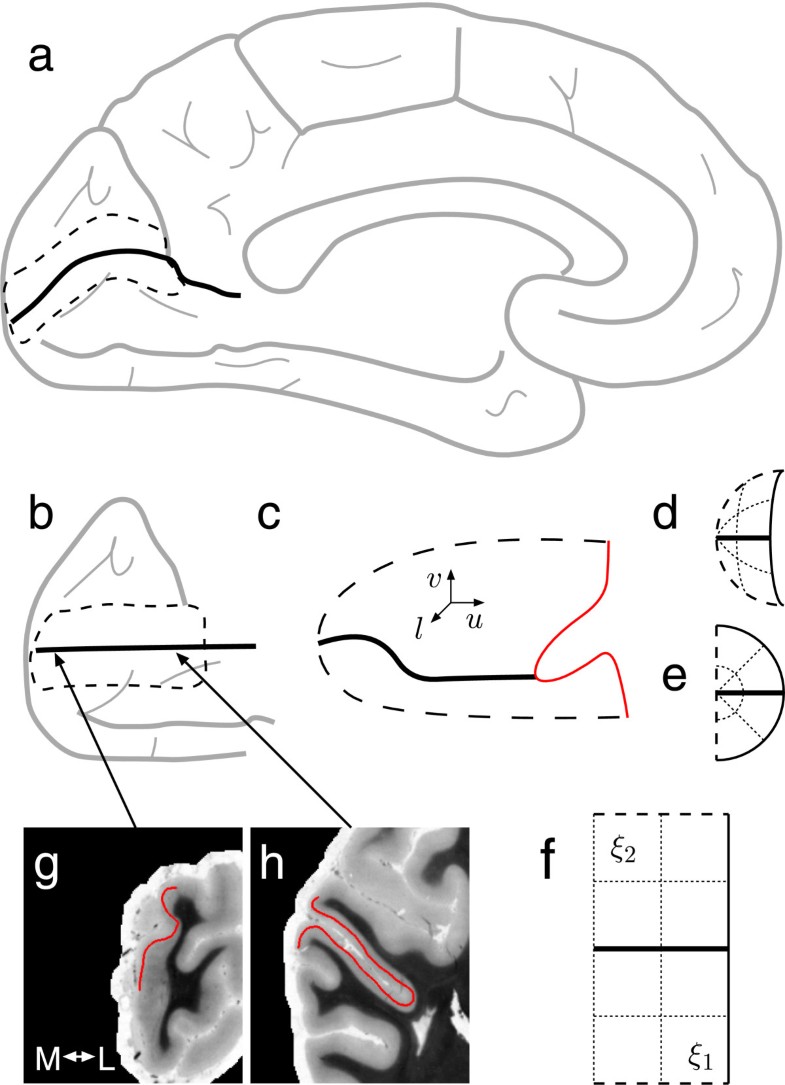 Many studies of human cortical architecture show that sensory and motoric fields have some relationship to the gross sulcal and gyral morphology, although a substantial variability in both size and location is observed [1–4]. In a few cases, very precise correlations between sulci and functional entities could be demonstrated. Motor cortex can be identified by the position of the central sulcus [5] and the primary auditory cortex has a clear spatial relationship with Heschl's gyrus [6, 7]. The most reliable relation is, however, the calcarine sulcus (CS) as a landmark of the primary visual cortex (V1) [8–10]. Anatomical identification is also quite reliable for visual areas outside V1, e.g., V5 lies at the intersection of the ascending limb of the inferior temporal sulcus and the lateral occipital sulcus [11, 12].
In this paper, we consider V1 not only because of its structural anatomy, but also of its functional retinotopy, i.e., the spatial organization of the neuronal responses to visual stimuli (see below) is well studied in this field [13–18]. The CS, where V1 is located, begins near the occipital pole on the medial surface of a hemisphere. It continues toward the posterior end of the corpus callosum (Fig. 1a). We will present evidence that the 3D form of the CS indicates a selective magnification of the horizon of the visual field that is neither accounted for in standard retinotopic maps nor reflected in the density of retinal ganglion cells, although a modest increase of retinal cell density, the so-called visual streak, can be found [19–21].
Already in 1984, Rovamo and Virsu [22] noted that locally isotropic (independent of the direction of measurement) cortical magnification, that is also symmetric with respect to the meridians, can be better approximated by taking the unfolded convex 3D form of the cortex into account. This does not imply that cortical magnification has to be strictly locally isotropic, but curvature affects the overall layout. Recently, the influence of cortical folding in primate did also take into account the concave folds [23]. We apply tensor analysis to investigate how these symmetries, i.e., isotropy and meridional symmetry, relate to the gross folding pattern, in particular the concave fold of the CS that creates additional cortical space for the representation of the visual field close to the horizon. To this end, we compare intrinsically flat and curved surfaces of V1 and investigate how the 3D form affects cortical magnification. We propose that in particular a horizontal stripe gains additional cortical space. The shape and location of this stripe is similar to the visual streak as a retinal specialization found to be very pronounced in some animals [24–30]. This suggests a link between cortical folding, M-scaling and the functional development of cerebral sulci.
First evidence for the predicted selective cortical magnification of the visual horizon can be found in the literature: perceptual filling-in [31] and traveling migraine scotoma [32]. The big advantage of psychophysical methods that measure scotoma is that neither method requires surface reconstruction to measure cortical magnification. But it is difficult to get reliable quantitative data, because these methods involve psychophysical investigations with subjective evaluations from probands and patients. Furthermore, there is a brief report of such a phenomenon [33]. Only computationally-intensive methods, which allow precise surface-based morphometry using anatomical magnetic resonance imaging and functional magnetic resonance imaging (MRI and fMRI) [18, 34, 35], can provide a direct test of our predicted correlation between CS, as an anatomical cortical landmark, and increased M, as a functional cortical measure.
2 Material and Methods
We use concepts from continuum mechanics to describe the retino-cortical map [36]. In the Lagrangian description of continuum mechanics, the map is seen as a deformation rather than a transformation. This description uses some coordinate system in the sensory space as a reference configuration to express every quantity in the deformed configuration, i.e., as the cortical map of the sensory space. The deformation language is intuitive but needs to be adapted for our purposes. We emphasize that we take mostly a kinematic approach. No attention is paid to the dynamics of the creation of a retinotopic map other than that we compare two discrete stages of V1, one which is intrinsically flat and one that evolved from the latter such that it is intrinsically curved with a major sulcus. The Lagrangian description is also suited for a dynamical description continuous in time of map development, for example with self-organizing neural networks [37].
Let us start by briefly clarifying the terminology, in particular related to cortical mapping and curvature; linear and areal cortical magnification; the naming of the visual coordinate system; and, finally, tensor versus matrix methods.
Conformal maps allow us to describe cortical magnification by a scalar field, simply referred to as cortical magnification factor. In fact, we start to consider conformal maps between domains in the complex plane, that is, we consider intrinsically flat domains. Conformal maps also exist between intrinsically curved domains. Note that throughout the manuscript, we do not consider extrinsic curvature unless we say so. Of course, to fit larger cerebral cortex surface area inside the skull, nature can make primarily use of extrinsic curvature, but not exclusively (unless the cortex would be a cylindrically scrolled structure). In the following, we will refer to V1 as being curved ("curved V1") if it is a surface with intrinsic curvature at least at some locations within V1, i.e., locations that have a nonvanishing Gaussian curvature. As a consequence, a curved V1 must be embedded in 3D even if it is mostly flat. And we will refer to V1 as a "flat V1" if it is an intrinsically flat surface, i.e., the Gaussian curvature is zero everywhere.
It can be important to distinguish linear and areal cortical magnification if we assume M-scaling, i.e., the fact that a measured quantity remains qualitatively similar across the entire visual domain when magnified in inverse proportion to M. For example, the time required for a scotoma of certain size to fade and become replaced by its background (perceptual filling-in, see discussion) can be proportional either to linear or areal cortical magnification. The underlying mechanism could involve merely the scotoma diameter, which would suggest linear M-scaling or involve the total area covered by the scotoma, which would suggest areal M-scaling. The term M-scaling is unfortunately sometimes used without mentioning which is meant. Note that the distinction between linear or areal cortical magnification is in the cases where M is a scalar field not essential as these factors can easily be converted, but one still must specify which method was used and in which units M is given (see next section).
To specify loci in the visual hemifield, a polar coordinate system with its origin in the viewer's fixation point is used (Fig. 1e). The coordinate lines at fixed polar angles are called meridians, with the horizontal meridian (HM) as the reference set to be zero degrees (bold solid line in Fig. 1e). Meridians increase and decrease in the upper and lower visual field quadrant to 90 degrees going anticlockwise and clockwise, respectively, until the two vertical meridians (bold dashed lines in Fig. 1e) bound the visual hemifield.
We will express the generalized cortical magnification in terms of a matrix M. We want to stress that cortical magnification is a concept independent of the retinal and cortical coordinate systems chosen to represent it. Therefore, M actually is a cortical magnification tensor. It may lead to some confusion, when we later introduce M based on the cortical metric in the sensory coordinate system. We need to consider some sensory coordinate system, which merely reflects the fact that cortical magnification is not exclusively a property of the intrinsic geometry of the cortex, but of the sensory map in the cortex. In mathematical terms, M is the square root of the matrix expressing the Riemannian metric of V1 in the sensory polar coordinates.
The Lagrangian formulation of such maps is a tensor approach. As an alternative to Riemannian geometry, it provides by definition some retinal parameterization of the cortical surface that is needed for the concept of magnification from retina to cortex. In contrast, the cortical metric in an arbitrary parameterization can be used, for example, to define the Laplace–Beltrami operator as a generalization of the Laplace operator and much effort has gone in the development of computationally advantageous parameterizations in this regard. However, since the cortical magnification is usually discussed referring to meridians and eccentricity, it is natural to use exclusively this polar coordinate system. Therefore, we refer to the generalized M as the cortical magnification matrix and avoid the potentially daunting term tensor.
3 Results
We will first define the contour of an intrinsically flat V1. Then we will define the cortical magnification matrix and use this concept firstly to compare cortical magnification along different radial directions (from horizontal to vertical) on the flat V1 and show that the vertical direction has an increased cortical magnification. Let us emphasize that retinotopic maps that are assumed to be intrinsically flat can still be extrinsically curved. We will define an intrinsically curved V1 starting from an extrinsically flat V1 by plausible deformations. In the second step, the retinal coordinate system is defined on this curved V1, preserving some symmetry constraints while relaxing others. Finally, we use the concept of cortical magnification matrix to predict a selective increase of cortical magnification along the horizon due to cortical folding.
4 Discussion
Cortical magnification is the local description of retinotopy or, in fact, of receptotopic maps in general. Tonotopic and somatotopic maps are other prominent examples [5–7] for which cortical magnification can be defined in the same manner as for the visual modality. Cortical magnification is the most fundamental quantity of cortical feature maps that describes how much cortex is devoted to processing sensory information. A thorough mathematical foundation of magnification is needed if we want to describe anisotropies and other symmetry breaking constraints in such maps that may serve distinct purposes in sensory information processing. We will start our discussion with experimental evidence supporting our predictions, continue with methods able to verify them, and provide the context to current alternative tensor methods. Then the limitation in symmetry properties of flat models of retinotopy and our assumptions concerning the 3D surface model of V1 are discussed. We finish with conclusions that can be drawn from our results on sulcal development.
Declarations
Acknowledgements
MAD acknowledges support by Deutsche Forschungsgemeinschaft of the project B7 in the framework of SFB910. JT was supported by a grant of the Deutsche Forschungsgemeinschaft (DA-602/1-1). We would like to thank Jochem Rieger for providing many helpful suggestions and Leo Peichl for his comments on the visual streak. We also thank one anonymous reviewer for various helpful comments on the manuscript. A revised version was done while MAD has been supported by the Mathematical Biosciences Institute at the Ohio State University and the National Science Foundation under Grant No. DMS 0931642.
Authors' Affiliations
(1)
Institut für Physik, Humboldt-Universität zu Berlin, Berlin, Germany
(2)
Institut für Theoretische Physik, Technische Universität Berlin, Berlin, Germany
(3)
Department of Simulation and Graphics Faculty of Computer Science, University of Magdeburg, Magdeburg, Germany
Copyright
© M.A. Dahlem, J. Tusch; licensee Springer 2012
This article is published under license to BioMed Central Ltd. This is an Open Access article distributed under the terms of the Creative Commons Attribution License (http://creativecommons.org/licenses/by/2.0), which permits unrestricted use, distribution, and reproduction in any medium, provided the original work is properly cited.