Fast–Slow Bursters in the Unfolding of a High Codimension Singularity and the Ultra-slow Transitions of Classes
The Journal of Mathematical Neuroscience
2017
7:7
Received: 21 July 2016
Accepted: 30 June 2017
Published: 25 July 2017
Abstract
Bursting is a phenomenon found in a variety of physical and biological systems. For example, in neuroscience, bursting is believed to play a key role in the way information is transferred in the nervous system. In this work, we propose a model that, appropriately tuned, can display several types of bursting behaviors. The model contains two subsystems acting at different time scales. For the fast subsystem we use the planar unfolding of a high codimension singularity. In its bifurcation diagram, we locate paths that underlie the right sequence of bifurcations necessary for bursting. The slow subsystem steers the fast one back and forth along these paths leading to bursting behavior. The model is able to produce almost all the classes of bursting predicted for systems with a planar fast subsystem. Transitions between classes can be obtained through an ultra-slow modulation of the model's parameters. A detailed exploration of the parameter space allows predicting possible transitions. This provides a single framework to understand the coexistence of diverse bursting patterns in physical and biological systems or in models.
Keywords
BurstingTime-scale separationDegenerate and doubly degenerate Takens–Bogdanov singularityUltra-slow modulationUnfolding theoryMinimal models
1 Introduction
Many systems in nature can display bursts of activity that alternate with silent behavior [
1
,
2
]. An example of bursting is shown in Fig.
1
. Bursting is in fact part of the dynamical repertoire of many chemical and biological systems and is the primary mode of electrical activity in several neurons and endocrine cells [
3
–
11
]. Neuronal bursting, in particular, is of key importance for the production of motor, sensory and cognitive behavior [
12
]. Bursts of activity are central to information processing, as they produce reliable synaptic transmission and as they can facilitate synaptic plasticity [
13
]. Bursting can also be pathological. For example, epileptiform discharges are associated with bursts of neural ensembles with highly synchronized activity [
14
].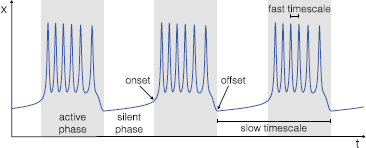 Modeling bursting behavior can help to uncover the mechanisms underlying the bursting dynamics in complex systems. Moreover, modeling gives the opportunity to perform in silico experiments to predict the outcome of manipulations of the system. For example, the Epileptor [15], which is a phenomenological model for the most common bursting behavior in epilepsy, has been used to predict seizure propagation and recruitment in highly personalized virtual epileptic brains [16]. Different treatment strategies can be tested in silico in these virtual epileptic patients, such as interventions on the network topology, stimulations and parameter changes, providing a tool throughout the presurgical evaluation.
Bursting activities, though, can present large differences, such as differences in amplitude and frequency. Different properties at the onset and offset of the burst (i.e. active phase; see the gray boxes in Fig. 1) have been linked to specific qualitative changes in the dynamics, which correspond to bifurcations occurring in a subsystem of the dynamical system [1, 17]. Izhikevich used the onset/offset bifurcations pair criterion to compile a taxonomy of possible bursting classes [17]. In the present study we provide a single autonomous model, comprising a minimal number of variables and parameters, able to produce many classes from this taxonomy. For this purpose, we make use of (i) the 'dissection' method applied by Rinzel [18] to the study of fast–slow bursters, namely bursters for which there is a time-scale separation between the rhythm of oscillation within the active phase and the rhythm at which silent and active phases alternate; (ii) the unfolding theory approach proposed by Golubitsky et al. [19], based on the idea that the bifurcations involved in bursting activity can be 'collapsed to a single local bifurcation, generally of higher codimension'.
Section 2 is a brief review of results in the literature upon which our work is built. In this section we will briefly recall both the dissection method [18] and the unfolding theory approach applied to bursting activity [19–21]. We will also describe a codimension 3 singularity, the degenerate Takens–Bogdanov (codim-3 deg. TB) singularity [22–24], for which we recapitulate the results of the application of the unfolding approach for bursting activity [3, 19, 20, 25]. In Sect. 3 we will systematically extend the unfolding approach to the deg. TB singularity and show how this allows for a rich repertoire of bursting classes. The model in fact is able to display almost all types of bursting behavior that have been predicted for systems with time-scale separation and a planar subsystem acting on the fast time scale [17]. We will explain in detail how to build the different classes of bursters. Furthermore, we will show how to obtain transitions among classes with an ultra-slow modulation of the model parameters, as done for a conceptually similar model by Franci et al. [21]. In addition, we will show additional bursting classes obtained when varying a fourth parameter of the model, which correspond to exploring the codimension 4 doubly degenerate TB singularity [20, 26]. Finally, we will apply a measure for complexity based on codimensions [19] to the bursting classes found in the model. This can help to understand the occurrence of bursting phenomena in empirical data and models.
2 Modeling Fast–Slow Bursters
Declarations
Acknowledgements
The research reported herein was supported by the Brain Network Recovery Group through the James S. McDonnell Foundation and funding from the European Union's Horizon 2020 research and innovation program under grant agreement No. 720270. The authors thank Silvan Siep for helpful discussion.
Open Access This article is distributed under the terms of the Creative Commons Attribution 4.0 International License (http://creativecommons.org/licenses/by/4.0/), which permits unrestricted use, distribution, and reproduction in any medium, provided you give appropriate credit to the original author(s) and the source, provide a link to the Creative Commons license, and indicate if changes were made.
Authors' Affiliations
(1)
INS, Institut de Neurosciences des Systèmes, Inserm, Aix Marseille Univ, Marseille, France